Welcome to the Parish of Heddon-on-the-Wall
The Parish of Heddon-on-the-Wall comprises the settlements of Heddon Village, East Heddon, West Heddon & Close House, Rudchester, and Whitchester we refer to our parish as a village. The attractive village is situated 9 miles west of Newcastle-upon-Tyne in the beautiful, unspoiled and historic county of Northumberland. Heddon is on the line of Hadrian's Wall and, according to visitor guides, 'has the best stretch of Roman Wall in a village setting'. Heddon attracts many thousands of visitors, either those walking the Hadrian's Wall Path or those passing through on organised tours.
The village is popular, both as a retirement location and also for commuting to Newcastle and other parts of the region. It has a rich and interesting history and today has a thriving community spirit with many active groups and organisations. St Andrew's Church is of Anglo Saxon origin, consecrated in 630AD. In addition to St Andrew's, there is also a Methodist Chapel. There are a small number of shops, a library, two public houses (The Three Tuns and The Swan) a petrol station/post office/Spar store and a primary school. It boasts the oldest Women's Institute in Northumberland.
Over the years the village has hosted a variety of industries including salmon fishing in the river Tyne, coal mining, limestone quarrying, brick making and agriculture.
The village benefits from its proximity to the A69, which runs from Newcastle to Carlisle. The market town of Hexham is 14 miles to the west. Heddon is an ideal place from which to explore the attractions of Northumberland – the Northumberland National Park, Cheviot Hills, Kielder Forest and the Scottish Borders are within easy travelling distance. Northumberland has many pretty towns and villages, most of which have a diverse (and often violent) history.
The Roman Wall at Heddon-on-the-Wall
Most of Hadrian's Wall from the outskirts of Newcastle as far as turret 33b further west lies under the Military Road, built in the aftermath of the Jacobite uprising of 1745. At Heddon, though, for a short distance the road turns slightly north, and stretches of Hadrian's Wall 220 metres long and of the Wall-ditch to its north are visible. This fragment of the Wall is the best preserved of all those so far excavated which were built to broad gauge – the original specification for the Wall when building began about AD 122. A late medieval or post-medieval corn-drying kiln cut into the core of the Wall here is an example of the many ways in which its ruins were exploited by people living along its line.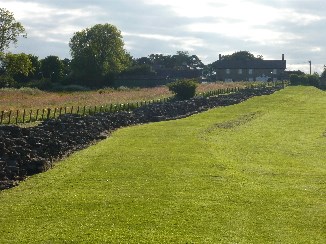 Thursday 1 June 2023
Friday 2 June 2023
Saturday 3 June 2023
Monday 5 June 2023
Tuesday 6 June 2023
Wednesday 7 June 2023
Thursday 8 June 2023
Friday 9 June 2023
Saturday 10 June 2023
Monday 12 June 2023
Tuesday 13 June 2023
Wednesday 14 June 2023
19:00 Parish Council Meeting
Thursday 15 June 2023
Friday 16 June 2023
Saturday 17 June 2023
Monday 19 June 2023
Tuesday 20 June 2023
Wednesday 21 June 2023
Thursday 22 June 2023
Friday 23 June 2023
Saturday 24 June 2023
26 June 2023
27 June 2023
28 June 2023
29 June 2023
30 June 2023